AC-10000X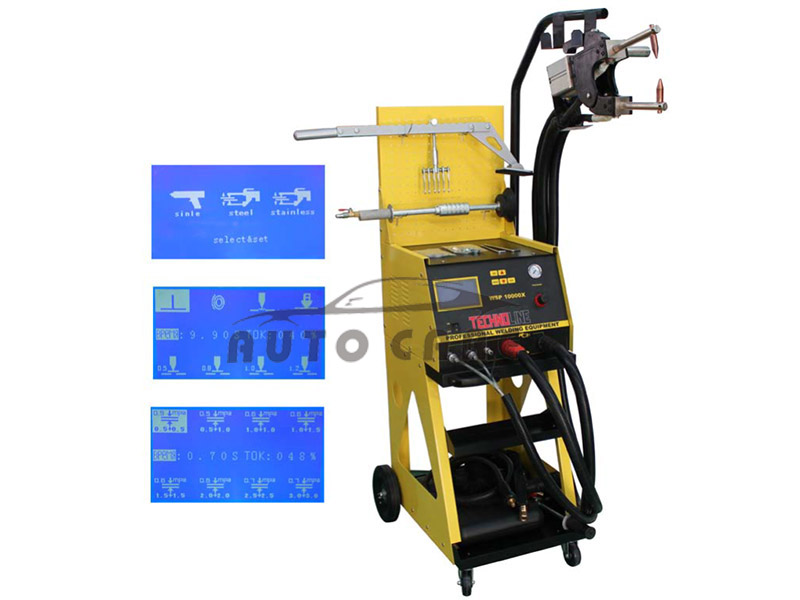 AC-10000X

Brife: AC-10000X is for professional car body workshops. It allows spot welding 2 faces with a pneumatic clamp; welding monopoint 1 face with a gun for small repairs, hammered, patchwork and nails poses, pins, discs, rivets. Moreover, it supplys steel and stainless steel welding with 12 functions, we set the recommendation current and time value. AC 10000X features:
1. Automatic over-heated protection function;
2. Repair functions for different steel auto body include stainless steel and other materials ;
3.One side welding and both sides welding can be chosen;
4.Heat,meson,vertical pulling,spot welding,flatten,waveform line,whorl post,triangle shim etc welding;
5.Possess gas filtrate and regulate function;
6.Unique cable rack,have front-back flexible function,Can turn 360 degree;
7.Triangle shim direct spot welding repair;
8.LCD digital chinese and english graph display;
9.Large puller and waveform welding;
10.Equipped infinitely current regulate,for any options.
Technical parameter

Model

AC10000X

Power supply

2ph 400V or 1ph 230V 50/60Hz

Max current

10000A

Normal power at 50%

12KVA

Max power

60KVA

Thermal class

F

Protection degree

IP21

Max air pressure

1.0Mpa(10Bar)

Output voltage

2-13V

Welding depth

1.0+1.5mm (1 face)

Welding depth

3.0+3.0mm (2 faces)

Cables

2*3m*150mm2 (2 faces)

Cables

2*2.5m*75mm2 (1 face)

Packaging Size

62*68*120cm(0.51CBM)

Gross Weight

135kg

Packing

Wooden

Certification

ISO CE

Code

116000

MOQ

1 set